Company Overview
Lightwood Games is a small, independent game developer based in Perton, Staffordshire.
The company is a specialist developer of puzzles games and began developing games for iOS in 2010. The first app released by Lightwood Games – Word Search Party – was launched later that year. It has now been downloaded nearly two million times.
More recently, the company has focused on producing word games and logic puzzles for home and portable consoles, and is delighted to have been able to bring their titles to PlayStation, Xbox and Nintendo consoles.
Lightwood has partnered with Conceptis Ltd, the world's leading supplier of logic puzzles, to provide puzzle content for a number of titles, including Sudoku, Pic-a-Pix, Fill-a-Pix and Link-a-Pix games.
Through partnerships with publishers Rainy Frog, Starsign and Eastasiasoft, several games have been localized and published in Japanese, Chinese and Korean.
Lightwood Games is now authorised to publish on all major console platforms and has new titles in the pipeline for Nintendo Switch, PlayStation 4 and 5, and Xbox One and Series X|S.
Lightwood Games is an independent game developer, owned and operated by a husband-and-wife team. Katherine and Chris finally tied the knot in Las Vegas in October 2013!
Lightwood Games is a trading name of Lightwood Consultancy Ltd, registered in England and Wales, company registration number 03737612.
The Team

Chris Newman is the founder and managing director of Lightwood. Now an accomplished game developer, he is also a database expert and has written books about MySQL and SQLite. For many years, he built online gambling software and has a reputation for making systems that are as robust as they come.
He is responsible for the server backends that drive Lightwood's games and frequently he can be found extracting a wide range of often useless statistics from the games' databases, which may or may not help to improve the games he makes.
Chris combined his love of music games, like Guitar Hero and Rock Band, with his limited actual musical skill, to create UkeTok, an online ukulele club with an interactive game-style songbook.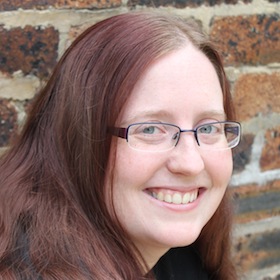 Katherine Gordon joined Lightwood with a rich portfolio of mobile game development, having previously worked on licensed titles for the likes of Sony Entertainment and PopCap.
She writes code at lightning speed, and would be so much faster if it wasn't for that pesky compiler. Often you'll find her knitting while waiting for the technology to catch up.
Katherine loves point-and-click adventure games, and puzzles of course! Not just puzzle video games: she is a fan of escape rooms and jigsaws, and can be found solving puzzles on her YouTube channel, Puzzling Beats.